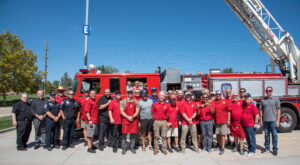 Location: St. John the Baptist – Draper
Grand Knight: SK Cody Rasmussen *
Charter Date: 03/29/1998
Assembly: #2577
Website: https://www.sjb-parish.org/get-involved/serve
Mother Teresa of Calcutta Council No. 12181: Draper (District 3)
2022 Utah Winner – Family Award: Pie N Beer Day
2022 Utah Winner – Live Award: Nocturnal Adoration for Life
2022 Winner: $1000 Dan Higgins Memorial Scholarship – Gracson Marie Milton from Juan Diego Catholic High School in Draper, Utah.
2020 Utah Winner – Chaplain of the Year : Monsignor Terence Moore.
2019 Utah Winner – Life Award: Baby Bottle and Shower Campaign
2019-2020 Council Awards: Columbian, Founders
2018-2019 Council Award: Star
Foursomes for Fisher House Golf Tournament – July 10, 2021: Golfer Flyer, Sponsorship Flyer, website.
Saint John the Baptist has had an established Knights of Columbus Council since 1998. The Knights of Columbus is an organization of Catholic Men, age 18 and older, and their families.
Our Council offers fundraisers, youth activities, spiritual support, community service, social gatherings, monthly Rosaries for Healing, and prepares meals for our parish family multiple times a year- Parish Picnic in the summer, Lenten Fish Frys, and Blue Mass (2021; 2021 Photo Gallery) with Pancake Breakfast, to name a few.
Meetings: 2nd Thursday of the month at 7:30 PM – Room A, St. John the Baptist Parish Center, 300 E. 11800 S.  Social at 7:00 PM (with food and drink).
Council Calendar http://tinyurl.com/kofc12181 (links to Zoom meetings).  Square (dues)
St. John the Baptist Parish Website ~ SJB Parish Calendar ~ SJB Parish Flocknote
Photo
Council 12181 Membership Directory Update Form
Council Gear!  Shirts: Options & Order Form; Name Badge Order Form