Recruiting Incentives
Quarterly
TBA
Yearly
TBA
There are additional incentives from the Supreme Council.
It's all working towards the Star Council Award and its components.
Programs – The Columbian Award
Insurance – The Founder's Award
Membership – The Father McGivney Award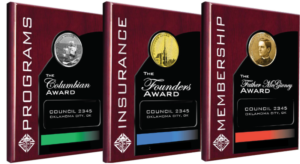 Winners
Quarterly Top Recruiter
Q1: Leobardo (Leo) Galvan, Council 5347
Q2: Rafael Castillo (5214) and Andres L Acosta (8350) tied with four (4) each.
Q3: TBD
Q4: Steven Thatcher (12181)
Yearly – Council Highest Net Membership Gain
Father Escalate Council 1136 with 500%. They received a $500 check.
District Scoreboard: 2021-2022 Final
| District | Deputy | Recruits |
| --- | --- | --- |
| 3 | Larry Page | 30 |
| 2 | Paul Tinker | 19 |
| 4 | Unassigned (TBD) | 19 |
| 1 | Andy Beck | 16 |
| 8 | Unassigned (Pat McDonald) | 16 |
| 6 | Mike Middlemiss | 15 |
| 7 | Tim Soran Jr. | 8 |
| 9 | Gabino Chacon-Escarcega | 6 |
| 11 | Unassigned (Beau Parent) | 5 |
| 5 | Larry Zubel | 3 |
| 10 | Mark Dylla | 3 |
| 12 | Bill McCauley | 0 |
Knights Scoreboard: 2021-2022 Final
| Knight | Council | Recruits |
| --- | --- | --- |
| Ray Lopez | 1136 | 11 |
| Steven Thatcher | 12181 | 9 |
| Andy Airriess | 7961 | 8 |
| Nick Nielson | 5502 | 6 |
| Rafael Castillo | 5214 | 5 |
| Robert Diaz | 14239 | 5 |
| Andres Acosta | 8350 | 4 |
| Jonathan Gauchay | 1136 | 4 |
| William Kelly | 12181 | 4 |
| Dennis Robles | 1136 | 4 |
| Ray Salazar | 5502 | 4 |
| Leobardo Galvan | 5347 | 3 |
| Giancarlo Gazani | 602 | 3 |
| Gaspar Munguia-Madrid | 7401 | 3 |
| Joe Nesi | 5502 | 3 |
| Randy Rhoads | 11246 | 3 |
| Rogelio Castaneda Jr. | 8606 | 2 |
| Edward Deffner | 13297 | 2 |
| Art Grant | 13297 | 2 |
| Richard Hartle | 6010 | 2 |
| Joesph Lopez | 1136 | 2 |
| Louis Mandrigues | 10733 | 2 |
| Bob Masse Jr | 5214 | 2 |
| Nathan Morley | 12959 | 2 |
| Jose Munoz | 8350 | 2 |
| Alex Tarazon | 1136 | 2 |
| Kody Anderson | 12181 | 1 |
| James Arguello | 1136 | 1 |
| Calvin Bergenheier | 5502 | 1 |
| Jason Burger | 5502 | 1 |
| Joseph Chimeno | 2611 | 1 |
| Joseph Colosimo | 6147 | 1 |
| Andrew Domyan | 14764 | 1 |
| Jesus Gomez | 5214 | 1 |
| Chuck Grahmann | 11479 | 1 |
| Greg Hawkins | 8606 | 1 |
| James Hottenroth | 9849 | 1 |
| Tom Johnson | 602 | 1 |
| Ronald Lawson | 9849 | 1 |
| Mark Marasco | 2611 | 1 |
| John Marcinek | 12181 | 1 |
| Jeffrey Martinez | 6739 | 1 |
| Michael Mast | 12181 | 1 |
| Steven Maurice | 14399 | 1 |
| Jose Mendoza | 6010 | 1 |
| Manuel Mendoza | 1136 | 1 |
| Brother Tomothy Meza | 9849 | 1 |
| Paul Oberley Jr | 777 | 1 |
| Cody Rasmussen | 12181 | 1 |
| John Rippa | 11246 | 1 |
| Jacob Sanderson | 15418 | 1 |
| Edwin Solorzano | 9561 | 1 |
| Timothy Soran Jr | 13297 | 1 |
| Daniel Tracy | 602 | 1 |
| William Van Berckelaer | 6966 | 1 |
| Karl Van Maren | 12181 | 1 |
| Paul Vandeveegaete | 6966 | 1 |
| Vincent Vargas | 6739 | 1 |
| Chad Vargo | 5214 | 1 |
Council Scoreboard: 2021-2022 Final
Note: The quota is 5% net increase in the council's membership from the previous year with a minimum of three and maximum of twenty. More details at www.KofC.org/star