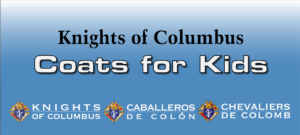 Ready for Coats for Kids in 2018?
Council fundraisers are underway & regional coordinators are collecting funds (some orders have been placed, others will happen soon).  Coats cost approximately $20 each and are ordered in cases of 12.
The 19 cases of new coats arrived in SLC and were distributed at Catholic Community Services (437 West 200 South, in SLC) on Saturday, 01-DEC-2018, along with other collected coats.
To donate toward the Salt Lake City distribution at Catholic Community Services, mail a check payable to "Knights of Columbus Utah State Council" to Nick Nielson – State Secretary, 215 East 100 North, Kaysville, UT 84037.  Deadline for monetary donations is 10/31.  Thanks to Council 9731 for $500, and Council 12181 for four cases of coats.  Council 15418 is providing $1760 and about 20 coats for the toddlers (sizes 2-5).
Other Coats for Kids Collections & Distributions
Council 15418 is also distributing at Saint Ambrose Parish (SLC).
Saturday, Nov. 3 at Catholic Community Services in Ogden (contact Jon Kasper); including $2014.00 from Council 9849, 10 cases of coats each from Council 777 & Council 14399 and 20 cases from Council 6010 … with extra coats going to the YCC (Your Community Connection Shelter), schools in Davis County and the Lantern House in Ogden!
On Saturday, Nov. 3, there were also coats distributed by Knights in Tooele and at Hill Air Force Base.