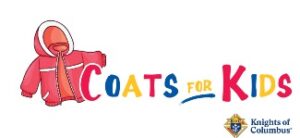 Four State Distributions are set!
* Sun. 11/7 1-3 PM with Council 14239 at Saint Andrew in Riverton (Flyer) (flyer #2) (calendar)
* Sat. 11/13, 8-10 AM with Council 9731 at Our Lady of Lourdes in Magna (Flyer) (calendar)
* Sat. 11/20, Noon – 1 PM at CCS Saint Vincent de Paul Dining Hall in Salt Lake (Flyer) (calendar)
* Sat. 11/20, 2-3 PM with Council 12264 at 340 S. Goshen St. (north of St. Patrick's Church) (Flyer) (calendar)
These are open to everyone, the kid needs to be present to get the right size coat.  Volunteers are welcome (contact Bob).
See also this newspaper article listing the distributions.
State Coats for Kids Chairman Bob Masse Jr, PSD solicited pledges for monetary donations through September 15th; 132 cases of coats were ordered in early October (most of which councils will be distributing locally).  State distribution sites were identified and dates and times set (see above for the current list).  More information about the program is available here.
Send donations (from councils, assemblies, and individuals) to State Secretary Bill Kelly (address); please pay your pledged amount as soon as possible (the money is already spent).