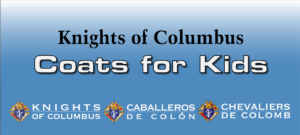 Ready for Coats for Kids in 2019?
Council fundraisers are underway & regional coordinators are collecting funds (some orders have been placed, others will happen soon).  Coats cost approximately $20 each and are ordered in cases of 12; coats sized for teens are more expensive.
To donate toward the Salt Lake City distribution at Catholic Community Services (CCS), mail a check payable to "Knights of Columbus Utah State Council" (with "Coats for Kids" in the memo line) to Ryan Graveley – State Warden (7658 West Washington Road, Magna, Utah 84044).  Deadline for monetary donations was 10/31; please let Ryan know what you're donating in case the mail is delayed).  Distribution at CCS is on Sat. Nov. 23rd (wear your Knights of Columbus shirt and join in from 11:00 am to 1:00 pm).
Utah Coats for Kids Collections & Distributions
Saturday, Nov. 2, at Saint Marguerite's Catholic Church in Tooele (contact Barry Stine).
Saturday, Nov. 9 at Catholic Community Services in Ogden (contact Jon Kasper or John Valdez).
Saturday, Nov. 23, (11a-1p) at Catholic Community Services of Utah, 437 West 200 South, Salt Lake City, UT (contact Ryan Gravely)
Sat. 12/7 5-7 pm, Sun. 12/8 10:30 am -12:30 pm, at Cathedral of the Madeline in Salt Lake City (contact Council 602).
Saturday, 12/14, Walmart in Spanish Fork (Utah County / Shop with a Cop), contact Ray Folks.  Assembly 1146 (Councils 1136, 8606, and 9561).
TBD, Hill Air Force Base, (contact Council 16127).
TBD, Layton (Davis County), (contact Council 6010).