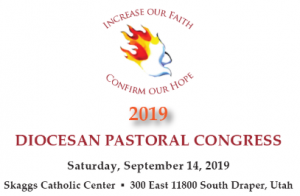 Diocesan Pastoral Congress 2019 Program
Increase Our Faith, Confirm Our Hope
Registration (before Sept. 8th): $45/adult; includes continental breakfast, lunch, workshops and exhibits.
Visit the Knights of Columbus Utah State Council Officers in the exhibition hall (gym).
Are you a Knight?  Wear your Knight Gear!  (e.g., polo shirt, name badge, etc.)
Prize Drawings!
a) for those who give us their name and email address.
b) for those Knights who bring a friend to the table.