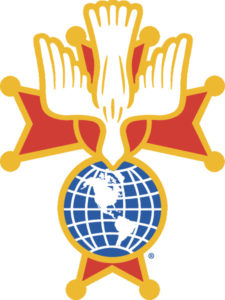 Knights of Columbus Rev. Robert C. Pollock Assembly 3586 is hosting a Fourth Degree Exemplification at the Cathedral of the Madeleine (331 E. South Temple, Salt Lake City) on Saturday, 03-NOV-2018.  The honoree is Rev. Martin Diaz.  Candidate cost is $70 (and includes dinner), all others pay $30 for the banquet dinner (fajitas).
Invitation & Dinner Reservation Form (PDF: English, Spanish) * Invitation (JPG: English, Spanish) * Schedule & RSVP by check (JPG: English, Spanish) * Banquet Dinner Reservations (online payment).  All reservations due by October 20th.
Congratulations to the 18 new Sir Knights!  
Note: All the Fourth Degree Exemplifications for 2018-2019 have been scheduled: 26-JAN-2019 (Orem), 23-MAR-2019 (Holladay) & 18-MAY-2019 (Magna).