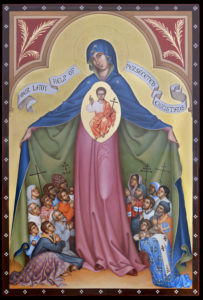 Our Lady Help of Persecuted Christians
Marion Icon – Prayer Service with the Sorrowful Mysteries of the Rosary
Please join Knight of Columbus Saint Ambrose Council 15418 for a Marian Celebration for the successful conclusion of Rebuilding Karamles and Adopt-A-Parish Projects supporting the persecuted Christians in the Middle East.
Join us at Saint Ambrose, 2315 Redondo Ave., Salt Lake City, UT 84108
Rosary will be in church and live streamed at 9:45 – 10:05 AM on Sunday, June 13, 2021.  Regular Masses with State Chaplain Father Erik Richtsteig be at 8:30 AM and 11:00 AM.
The Marian celebration will be LIVE STREAMED at www.stambrosecatholicchurch.org/live-streams.  Click the PLAY button on that page when the RED LIVE box appears (about 5 minutes before).
This flyer (PDF) has all the details.