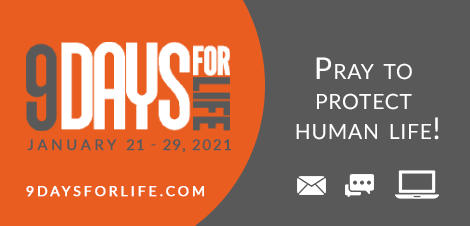 Join thousands of Catholics nationwide in the annual Respect Life novena, 9 Days for Life, Thursday, January 21 – Friday, January 29.  Get daily intentions, brief reflections, and more (text/email, English or Spanish).  Sign up at 9DaysForLife.com!   Each day's intention is accompanied by a short reflection and suggested actions to help build a culture of life.
Don't forget!  Mass for the Unborn & Ceremony of Light — Friday, Jan. 22, 6 p.m. at the Cathedral of the Madeleine.
Saturday, January 30th – March for Life Utah
Check out the diocesan website for other Life events.
We are here to save lives!  Join us!