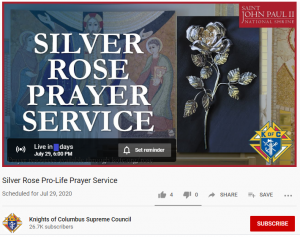 Did you miss the Silver Rose when it went through Utah in June?  It's not too late!
To participate in the Silver Rose program, on July 29th at 6:00 pm MDT, watch the live-stream Virtual Silver Rose Prayer Service on the Supreme Council's YouTube channel at https://www.youtube.com/watch?v=FiKTwKw-3Y4.
The 40-minute recording is available (use the same YouTube link).
Want to follow along?  Use the Silver Rose Prayer Service Booklet (PDF).
Note: The rose used in the service was blessed by Pope Francis in commemoration of the 60th anniversary of the program, during a February 2020 meeting between the Holy Father, Supreme Knight Carl Anderson, and Supreme Chaplain Archbishop William Lori at the Vatican.