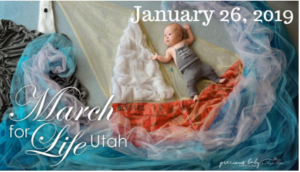 Pro-Life Utah is excited to invite you to be part of the March for Life Utah, Saturday, January 26, 2019 at 1:00 pm at the Utah State Capitol.  Citizens across Utah are invited to gather together and hear speakers (see flyer for details) as we bring awareness to the millions of lives that have been lost since the passage of Roe v. Wade and celebrate the great pro-life progress in our state!
We will gather together at the Utah State Capitol, and walk the Capitol Block (see map).
Be part of the Memory Walk, and sign up to walk for one of the 3000 babies aborted in Utah last year.
Donations of diapers for the Pregnancy Resource Center of Salt Lake will be collected at the start of the march.  This organization offers free services to pregnant women in need so they can choose LIFE for their baby.  Online monetary donations are welcome.
Join us for this uplifting event!
Printable PDF flyers in full page and half page formats.