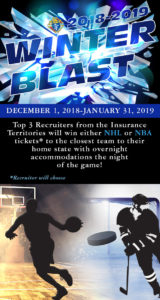 The Fraternal Mission Department is proud to acknowledge the important role recruiters have in making the Knights of Columbus a growing success.  That's why they are pleased to announce a new exciting Recruiter Incentive for the months of December and January called the Winter Blast.
Other recruiting incentives from the Supreme Council can be found here (for individual recruiters, councils, district deputies, and state councils).
The Winter Blast results are in and two officers from Utah are on the leader board!
Andrew Airress (Utah Grand Knight Council 7961) has his council at #8 in the Order with 350% of membership quota!
Jerry W. Angus (Utah District 6 Deputy) is at #19 for districts in the Order with 147% of membership quota!